Mekong Delta is a gigantic wetland located at the Southern end of Vietnam. For ages, this region has been known as an immense network of rivers, rich of alluvium from the great Mekong River. It nourishes the prosperity of food and the human soul. Travelers can easily travel from Hochiminh city and spend a day or more exploring this greenish fragment of Vietnam. And the best part, they can bring home the most authentic souvenirs from the Mekong Delta. However, it can be a little bit overwhelming, especially it's your very first time in the region. The following sections are here to suggest the top five best things to buy in the Mekong Delta.
The 5 Best Souvenirs to Buy in Mekong Delta
Cocoa-based Products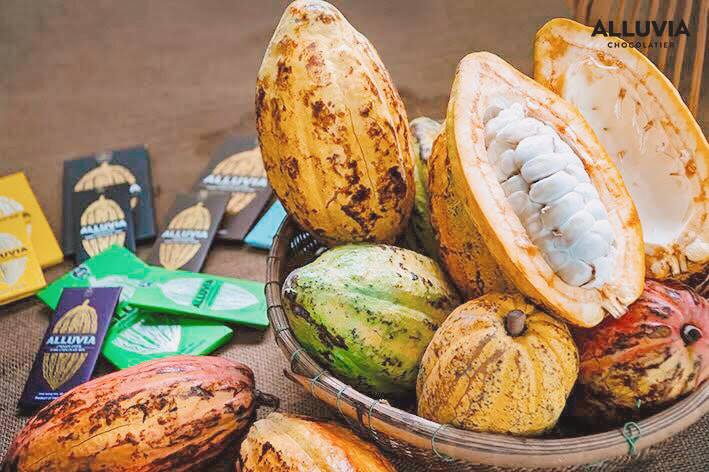 The cacao beans found in the region of Mekong are distinct for its fruity flavor, thanks to the high content of alluvium soil. It shouldn't come as a surprise that cacao-based products are one of the most sought-after souvenirs to buy in the Mekong Delta. This makes the gorgeously hand-wrapped and perfect sized chocolate bars the ideal gift for your loved ones back home.
Alluvia Chocolatier is a leading handicraft chocolate brand in Vietnam. Their factory based in Cho Gao District, Tien Giang Province. The key factor behind the fame of Alluvia is their bean-to-bar process, in which the team strictly control the quality of each chocolate bar from farming to manufacturing the final products. The alluvium-rich soil in Tien Giang has allowed Alluvia to grow the top-notch cocoa beans with the help of the well-trained staff of native farmers, and accordingly support the local economy.
18 selections of chocolate based on flavor and percentage of cocoa are available, for instance, 70%, 85% or 100% cocoa, pepper, coffee, coconut, cashew flavor and many more. A trip into the Alluvia factory is open for visitors with a decent fee of 100,000 VND per visit. If you buy their products right at the factory, then the entrance fee is much likely to be free of charge. If you are looking for something fun for your kids during the weekend, this experience would be ideal. You can check out top outdoor activities for your kids in Saigon for more suggestions. 
You can visit the cocoa farm and join the chocolate making workshop here:
Alluvia Farm & Chocolate Factory: Hoa My Hamlet, Binh Ninh Commune, Cho Gao District, Tien Giang Province.
Or drop by their store in ….: 
Coconut Treats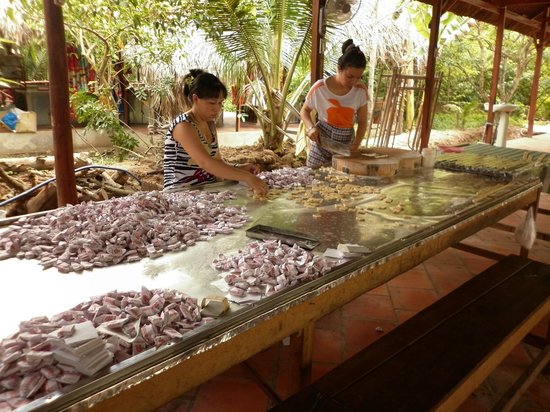 The land of the Mekong Delta is such a treasure trove of fun and unique ideologies. It fodders the most curious minds. Almost every family business you might encounter here specializes in making coconut-based treats. Among all, coconut candy, coconut flakes, coconut rice paper, coconut oil stand out. These treats are mainly made of coconut meat, an abundant source of food in Ben Tre Province. The exaggeration might sound unreal, but if coconuts gift items are what you're looking for, then this is the place!
There is a variety of coconut types grown in Chau Thanh District. To name a few, there are Siamese Green Coconut and Red Dwarf Coconut. This garnered Ben Tre the moniker "Land of Coconuts". To make coconut candies even more enticing than it already is, the ingenious locals have thought of adding durians, peanuts, cashews and even the extract of pandan leaves flavors. However, coconut candy shouldn't be the only thing visitors notice.  Organic coconut oil products in this region are very high in quality. Pure coconut oil, coconut lip scrub, lip balm, and mascara are three of the most sought-after things to buy, just to name a few! Dried coconut flakes are also my top recommendation for those snack lovers. The Vietnamese usually have them ready to treat invited guests to the house, especially in the Lunar New Year.
Recommended shops to get your coconut treats:
Handicrafts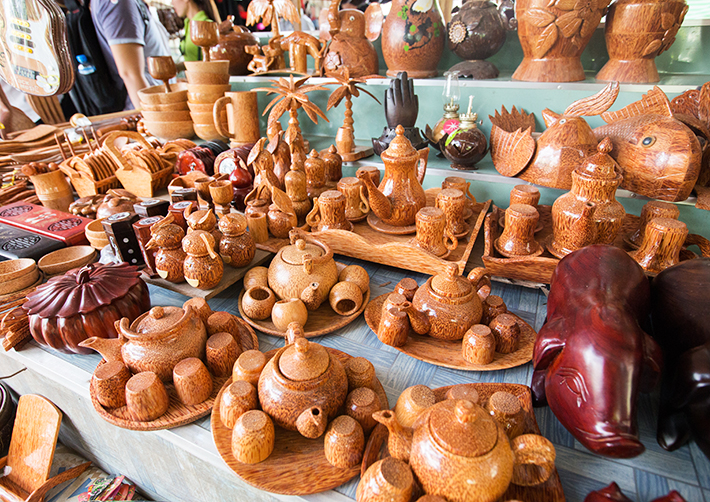 There are a handful of options when it comes to traditional handicraft villages in the Mekong Delta. For instance, conical hats villages in Can Tho and Tien Giang, weaving village in Kien Giang, sedge mat in Tien Giang and coconut products in Ben Tre. These traditional handicraft villages have played an important part in keeping Vietnamese traditions alive. You will find your best and unique souvenirs for your friends and family from Vietnam. It's also a great chance to have a deeper understanding of the cultural aspect of this region. Your trip to the Mekong Delta won't be completed without checking out one of these villages and taking home one of these handicrafts.
Tropical Fruits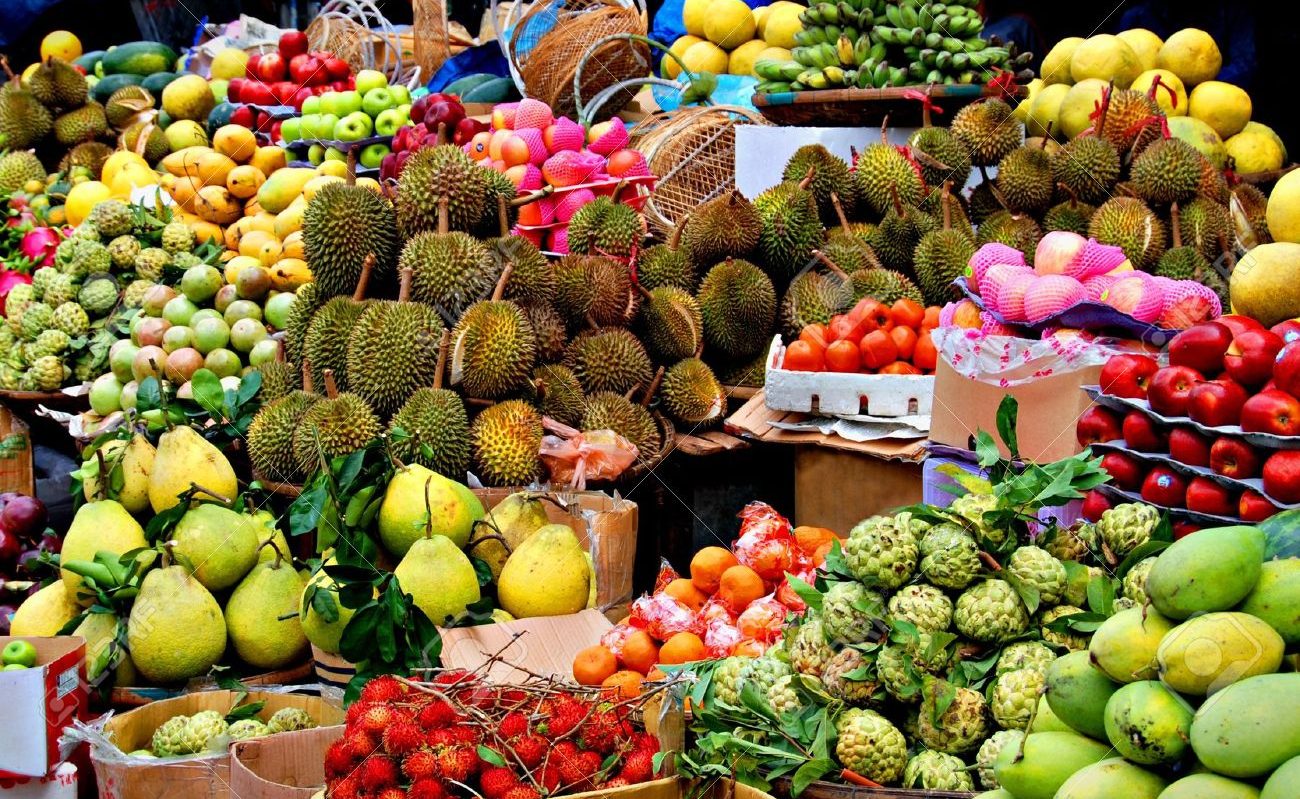 As the largest delta in Vietnam, the Mekong Delta is renowned as the fruit bowl of the country. Make no mistake, with an expansive land blessed with such bountiful harvest, travelers will be in for the time of their lives while visiting during the fruit season. With orchards ripening for picking and a penchant to listen to Southern folk songs, these two make a perfect recipe for enjoying the tastiest tropical fruits in a heavenly euphoria.
The suggested and most ideal time to explore the Mekong Delta is during summer from June to August. Fruit festivals are held across different provinces such as Tien Giang, Vinh Long and Can Tho, which celebrates a cornucopia of mangoes, longans, star apples, durians, rambutans, grapefruits, mangosteens, and tangerines!
The best place to find tropical fruits in Mekong Delta is the local wet market. There's a section selling seasonal fruits of all kinds at a very reasonable price. If you have a chance to visit an orchard during a trip, don't hesitate to pick the freshest fruits directly in the garden. Our recommended fruit plantations in the Mekong Delta:
Phoenix Island – Chau Thanh District, Ben Tre Province.

Thoi Son Island – My Tho, Tien Giang Province.

An Binh Island – Long Ho District, Vinh Long Province.
Tropical Honey
Beekeeping farms play a pivotal role not only in increasing the welfare of the local people but also in keeping the balance of the ecosystem. They help the plants grow by transferring pollen between the male and female parts of the plants. This accordingly allows the plants to grow seeds and fruit.
The Mekong Delta is one of the three crucial regions in Vietnam to export the best Vietnamese honey to the world. What makes the Mekong Delta honey an attractive ingredient is the taste itself. This land is home to largely spreading orchards, an ideal settle for the bees to get their honey and form hives. Some of the most popular types of plants where the beehives are collected are the longan and earleaf acacia. Flowers of such plants give the honey a unique and mouthwatering taste.
Tell us what you will pick and what else you want to put into this ultimate list!
Alluvia is a bean-to-bar chocolate manufacturer in Vietnam. The brand handcrafts chocolate products from cocoa beans of the alluvial Mekong Delta's soil, capturing the taste of Vietnam in each bar of greatness.  
Don't forget to share this article with friends who are about to come over the Mekong Delta soon!