Children these days rarely get the chance to go out. Sucked into the screens of phones and tablets, they seem to have forgotten the pure joy of being in nature. Although staying up-to-date with the latest technology never hurts, venturing into the open-air can help children improve their overall well-being and enjoy the wonders that this world has to offer. Check out these top 3 outdoor activities in Saigon to scoot your kids outside for a day of fun.
Taking a stroll in a public park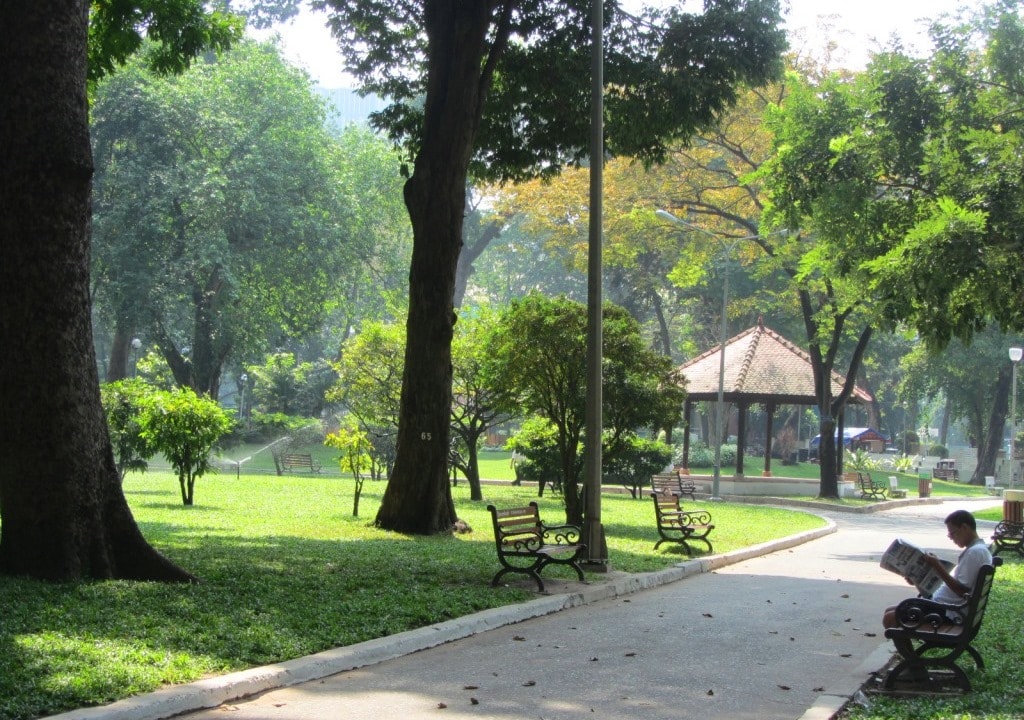 Although Saigon is known for its rising modernity, among the city's various concrete buildings still exist beautiful and quiet parks. Let's take advantage of the nice weather and bring your kids out for a walk in Tao Dan Park, The Crescent Walk or Hoang Van Thu Park – the top family-favorite public green spaces of the city. 
Tao Dan Park
Tao Dan Park is a great outdoor location to spend the day with your children. With more than 1,000 trees on a 100,000-square-meter garden, this park is one of the biggest public green spaces in Saigon. The park's century-old tropical trees cast a welcoming shadow over the shaded boulevards and intricate plant sculptures of animals. Your kids will have a fun time creating their imaginary characters and stories around them. In the center of the park nestles a miniature recreation of a red-brick Cham Temple and a shrine to the Hung Kings of Vietnam – legendary rulers of the Hong Bang period (c. 2879-258 BCE). Telling them historical stories while walking with them through the temple is a great way for them to learn new knowledge.  Exercise machines are available if your kids feel up to a quick work-out, and benches are scattered along the clean sidewalks should the family need a quick break.
Crescent Park – District 7
If you are looking for a mix between Saigon's modernity and natural landscape, The Crescent Walk is definitely a go-to. This crown jewel of Saigon is a traffic-free promenade that follows the bank of District 7's waterways, featuring four uniquely designed buildings, a Crescent Mall, and vast green pastures. When your kids are tired of running around, the mall is the ideal solution to cool them down and grab some food to recharge.
Hoang Van Thu Park
Coming last on the list is Hoang Van Thu Park, the "green lungs" of Saigon. As more and more high-rise buildings spring into existence in the city, this is one of the few oases for your children to get lost in nature, with 106,500 square meters of greeneries, recreation spots, and small hubs for relaxing and reading.
Having a blast in a water park

Kids are obsessed with water parks. It's a real challenge to name a child who is not. The two biggest water parks in Saigon are Suoi Tien and Dam Sen, which both make for an inexpensive and terrific family hang-out. 
Suoi Tien
Suoi Tien is an amusement park located in District 9. Otherwise known as "the fairy stream" in Vietnamese, it is the first water park in the world that devotes to Buddhism. The landscaping and attractions in this water-filled wonderland illustrate Vietnamese religious legends and folklore. Your kids will love the oversized golden dragon statues, avenues lined with pillars that resemble giant elephant tusks, and a waterfall sculpted with the face of an emperor. While the park's roller coaster is not to be missed, many smaller rides and a dinosaur garden also promise great fun. Your kids can further enjoy a dog- or turtle-shaped boat ride around the island pavilions, swim at the famous man-made beach, or feed the park's 1,500 live crocodiles – if this unnerving scene doesn't scare them away!
Dam Sen
Located in District 11, Dam Sen Water Park's numerous slides and rides keep this attraction filled with both locals and expats on weekends. This is a heaven for children, featuring a water palace decorated with massive statues of elephants and hippos spouting water jets. You will find a wave pool of 3000 square meters, and water sports and games for all ages, such as the Wandering River, Massage Pool, Aqua Dance, and Action Pool. For something a tad more challenging, standout rides like the Kamikaze or fast-paced water slides like the Flying Fox are recommended.
Going on a fun-filled day trip
Venturing outside of Ho Chi Minh is a good opportunity for your children to be in nature and get a taste of the Vietnamese countryside. Coming first on our list are day tours to either Can Gio, Ben Tre or check out Alluvia Farm & Chocolate Factory tour.
Day trip to Can Gio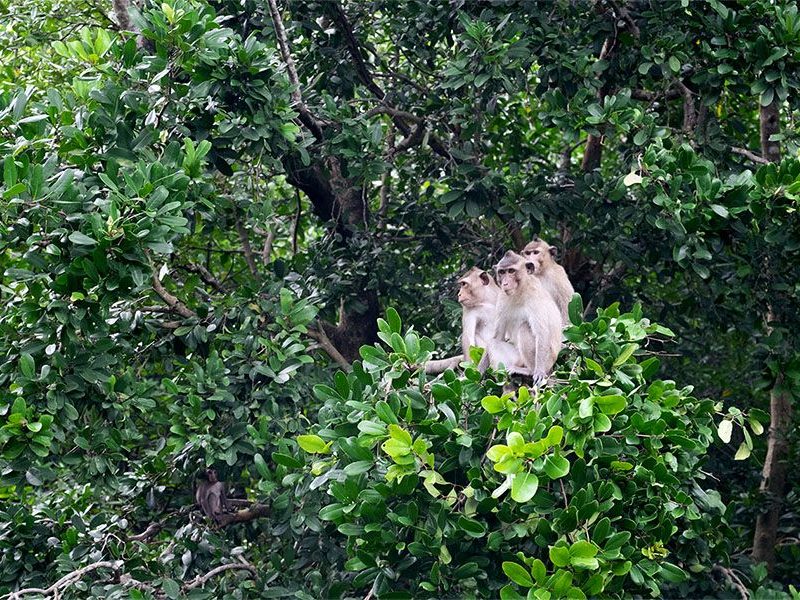 Situated in the southeast of Ho Chi Minh City where the Saigon River meets the China Sea, Can Gio is a UNESCO-certified Biosphere Reserve notable for its extensive mangrove forest. Formed from silt washing downstream from the river, this natural wetland possesses a high biodiversity with more than 200 species of fauna and 52 species of flora. A boat ride through the 10 kilometers murky shorelines of Can Gio will take your kids to various attractions, including the Monkey Island, Rung Sac Military Base, Vam Sat Salt-Marsh Forest Ecological Tourist Center, and a crocodile farm. All of those your kids only see through photos in the books. Can Gio is an eco-adventure for you and your children to reconnect with nature, explore the tropical forest, and relax amidst lush greeneries. Let your kids play with long-tailed macaque monkeys or feed the crocodiles and next thing you know, they won't stop talking about it for weeks after. 
Ben Tre, the coconut heaven
While a trip to Can Gio brings you to one of the most extensive sites of rehabilitated mangroves in the world, a visit to Ben Tre, the heart of Vietnam's Mekong Delta, is no less exciting. Regarded as the "Gateway to the Mekong", Ben Tre Province features a vast network of waterways and canals, hundreds of small islands, and bustling fruit markets. You'd better prepare your knowledge about fruit, plant, and customs from the area because your kids will surely have a dozen questions for you. 
Alluvia cocoa farm & the chocolate factory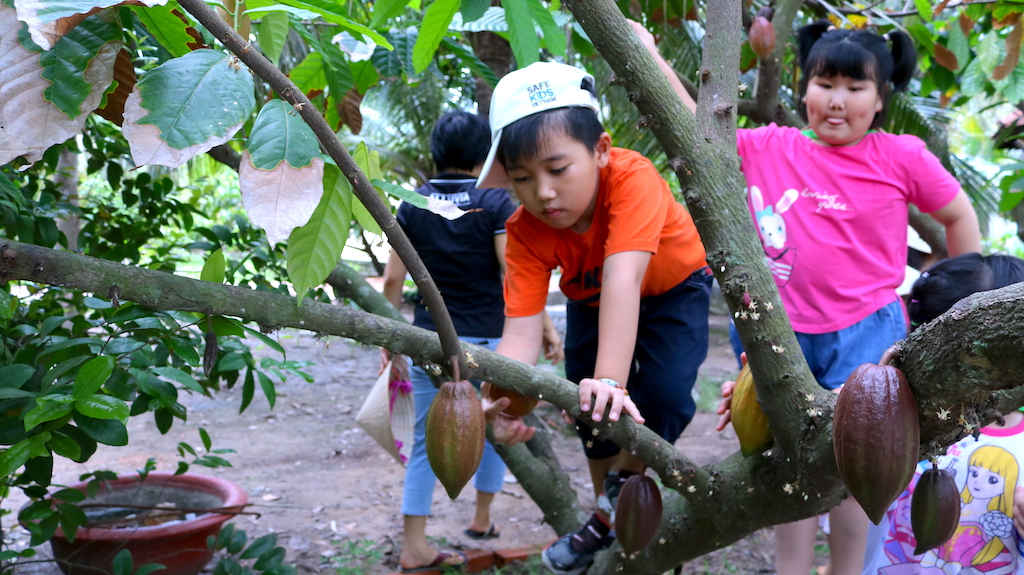 We save the best for last, with a tour to Alluvia Farm & Chocolate Factory to wrap up the list for today. During this trip to one of Vietnam's best chocolate manufacturers, you and your kids can experience how high-quality chocolate is made and learn about the "pod-to-bar" process. Some of the interesting activities designed for kids include visiting the cocoa farm, plant cocoa seeds, collect and taste cocoa beans, and go fishing on a bridge made from the trunks of coconut trees. The tour is a great opportunity for young children to learn about the cultivation of cocoa.  Alluvia's farm is a diverse ecosystem where your kids can unwind and let their eyes roam through seemingly endless flora and fauna. The best part comes afterward when they get to observe the chocolate-making process in Alluvia's factory, take a bite of the freshly-made chocolate, and even learn how to pour their own batch of sweets! A workshop on making hand-crafted chocolate and drawing lessons at Alluvia's factory are also available on request. You can book this experience by contacting Alluvia.
Whether it is strolling through public green spaces, getting soaked in water parks, or going on a day trip, there is never a lack of fascinating activities in Saigon for children. Follow this list and we guarantee you endless fun awaits. Getting your kids off the phone is never that easy.
Alluvia is a bean-to-bar chocolate manufacturer in Vietnam. The brand handcrafts chocolate products from cocoa beans of the alluvial Mekong Delta's soil, capturing the taste of Vietnam in each bar of greatness.  
With each share of this post, there is one less couch potato.