Christmas of 2019 is coming to Saigon and everyone is getting busy planning ahead! Meanwhile, expats and foreign tourists are wondering how to have the best fun when they're away from home. The good thing is that Christmas is still a big holiday in this Buddhist-dominant country. This means there's no lack of what to do and where to go during this fascinating event. Without further ado, we have compiled the best options for you regardless of the budget in this article!
What Is It Like to Celebrate Christmas Day in Saigon?
The Christmas Eve in Saigon still appears in a purer tradition compared to the Western countries where this event has been around for such a long time. Christmas is not Vietnam's national holiday, it's still a dominant holiday in the Christian community. Praying at the church is only a mandatory ritual for the local Catholic.  While Christmas is the most expected home-coming occasion in Western countries, it's a good occasion for young Saigon-er to go out and party with friends. The festive vibe officially kicks off when night falls, just right after people are off from work and hit the streets with their friends and family. All kinds of games or cuisine catered to this event is much limited. Tho, you can still find them in specialty restaurants whose main customers are expats. The classic festive games such as Christmas charade or movie trivia are oblivious types of activities. Despite this big contrast, expats and tourists alike are still able to celebrate Christmas in this way or another. The following section will reveal the best things to do for Christmas in Saigon. 
Christmas Eve in Saigon: Where to Go and What to Do?
Take a Glimpse at the Famous Churches at Night
Saigon Notre Dame Cathedral is not only an iconic landmark for tourists but it's also a popular site during the Christmas day in Saigon. It makes an absolute sense that visiting the church at night will be the best thing to do for Christmas in Saigon 2019. Please note that the cathedral is under construction until 2020. Ceremonies and celebrations are performed at the facade outside.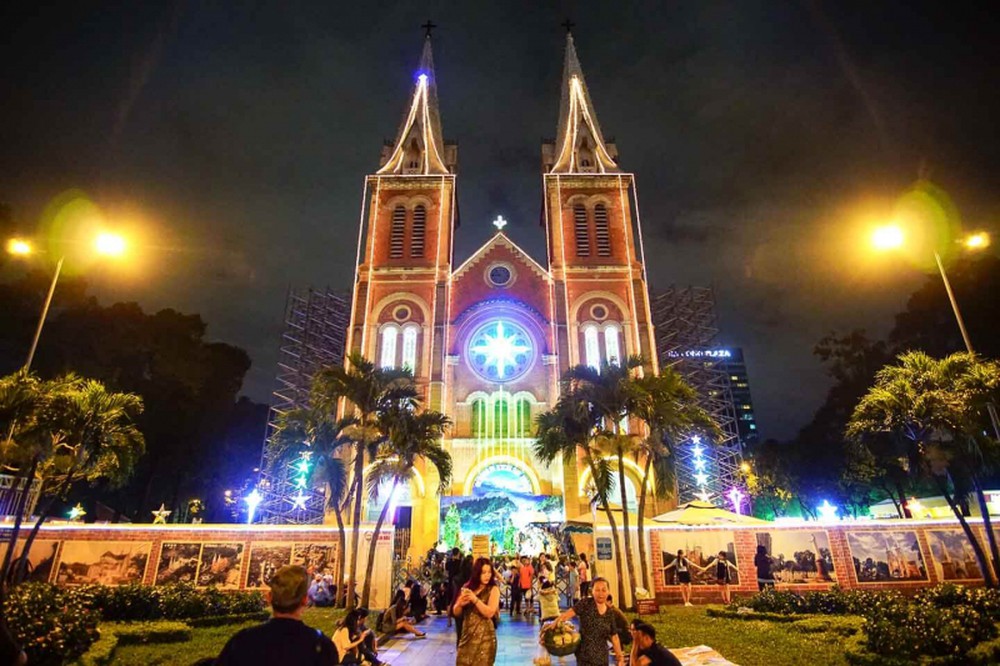 There's an annual ceremony of the local Christian community in front of the cathedral which includes singing and praying, with plenty of Christmas decorations going on. The event also draws a huge crowd watching and attending. Hence, if you look for the best religious thing to do during Christmas in Saigon in 2019, don't forget this magnificent landmark!
For those who want to go off the grid, the area around Pham The Hien Street in District 8 is surely the top destination. Home to the largest local Christian community in town, the street gathers 3 big churches all along which are known as Binh An, Mong Trieu, and Binh Thai Cathedrals. Christmas night comes along with a stunning decoration with nativity displays, light shows, and numerous lanterns lit up in the sky. The whole neighborhood becomes a vivid corner in town after dark. Take this is a great opportunity to join the crowd of locals and blend in the native culture!
Throw a Christmas Dinner in Saigon
You can never go wrong with the food, then why not throw a Christmas party in Saigon with your besties? If you plan on something different rather than a home cooking party, head off to those restaurants below!
Top Cozy Christmas Dinners for Family Reunion
Christmas is a family-centric holiday, and there's nothing that can beat a family night out to be the top thing to do during this occasion. Understanding this core value, many restaurants in Saigon have proposed special packages and promotions to go with the event. Here are our four favorite places in town to check out if you're looking for the best family dinner in Ho Chi Minh City!
Le Corto
If you come with a big group of friends or a beloved family, the fancy Le Corto restaurant offers a traditional in an elegant French setting. The delicious set menu of five courses brings you the exquisite mouthwatering dishes. Whether you want to have a Christmas lunch in Saigon or save it for a night out, Le Corto has everything it takes to provide the best home-away-from-home feast. With an acceptable price per person, you will be satisfied with what you pay for!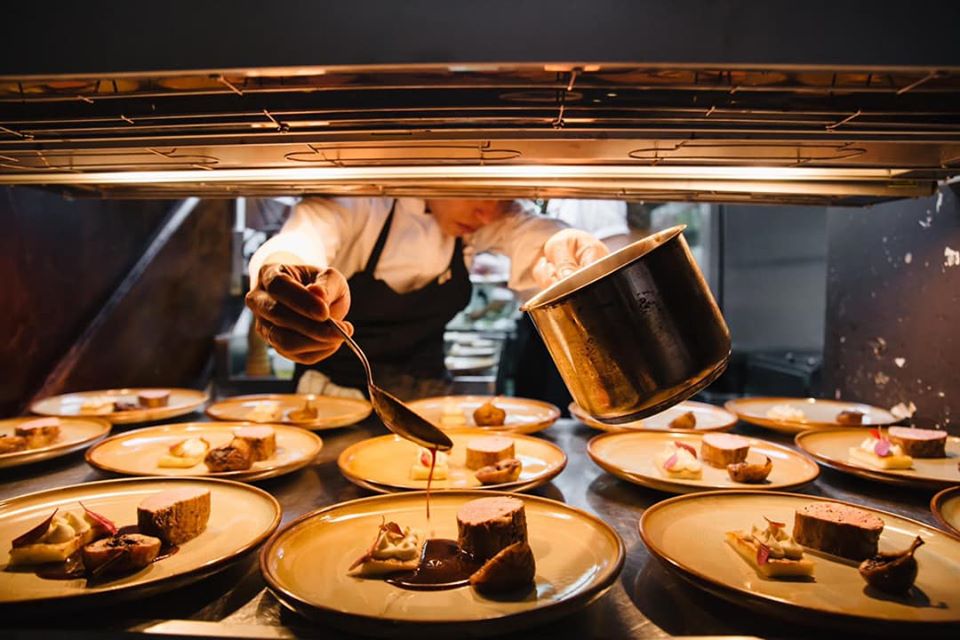 For more ideas about where to go with your family during Christmas in Saigon, check out our favorite spots below:
Top Romantic Christmas Dinners for Couple
Longing for Christmas to surprise your significant other? Rest your worries since there's no lack of decent bistros to invite your girl or boy out! Whether you are looking for a cocktail or a romantic dining setting, our recommendations below have everything it takes to be your top choice!
Hotel Des Arts
Its Café Des Beaux-Arts and Social Club Restaurant make a great pair for anyone seeking a decent vibe with their significant other in this festive season. The choices widely vary from afternoon tea set to 4-course gourmet dinner. Hotel Des Arts are also known as a brilliant spot for a Christmas dinner in Saigon. There's always something available to suit your culinary taste. Since the place is always high on demand, we advise you to call ahead for a reservation.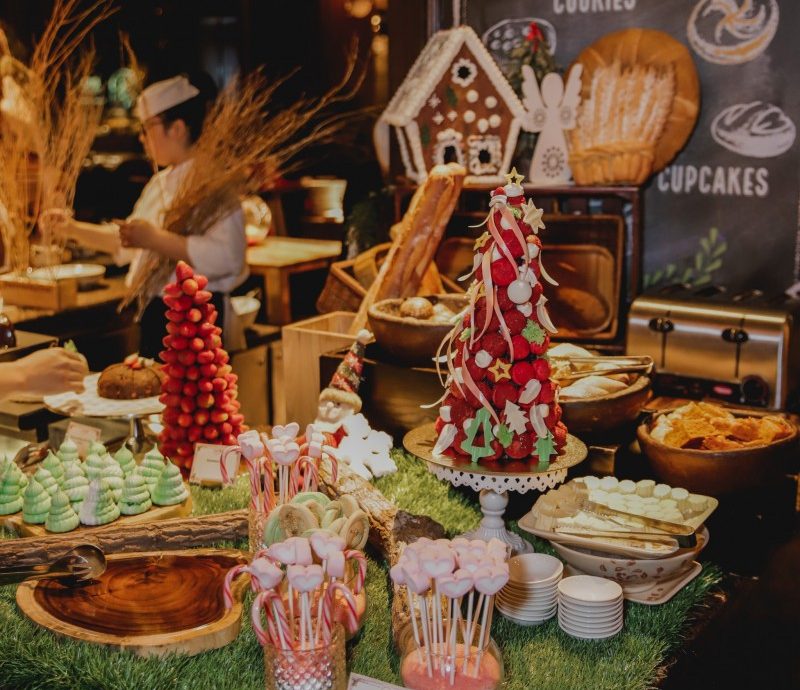 Saigon Princess Cruise
Cruising down the charming Saigon River while throwing a romantic feast with your beloved ones during Christmas brings you a new kind of experience. Saigon Princess Cruise is one of the best choices for cruise dinner when it comes to Christmas time in Saigon. This French colonial vessel offers a special discount every year off their food menu, and sometimes including wine too! Apart from the cuisine, the view you get from this gigantic cruise is second to none! Apart from the two names above, La Villa French Restaurant and Red Christmas Dining Feast at Eon51 Restaurant and Lounge are known to be the busiest places in the city during the two days of Christmas. Make sure to check their page frequently to keep yourself updated with the latest promotions!
Top-rated Christmas Dinners with Your Colleagues
How about a casual but fun night out with your colleagues? Embrace this chance to build a better bond with your office fellas! A buffet party is believed to bring you the best of fun. Here are four of them:

Hit the Vibrant Bars
Rooftop Bars
Downing cocktails on the top of Saigon gives you a chance to admire the festive atmosphere with a vista. Both locals and expats choose to frequent here to build a better network and meet new friends. This is a great choice for home-away solos finding a cozier ambiance during Christmas in Saigon. 

Clubs
Fatigue at work and want to dance the night away? Why not hit the best clubs for Christmas in Saigon with these brilliant suggestions? The three places below are packed every night in the year and they surely draw a bigger crowd when Christmas comes!

Wine and Cocktail Bar
Nothing beats a wine bar when it comes to a hidden spot chill with your mates. If you've got a cocktail fan coming along, why not come over one of these sites below? Booze of all kinds is available to fill your Christmas souls!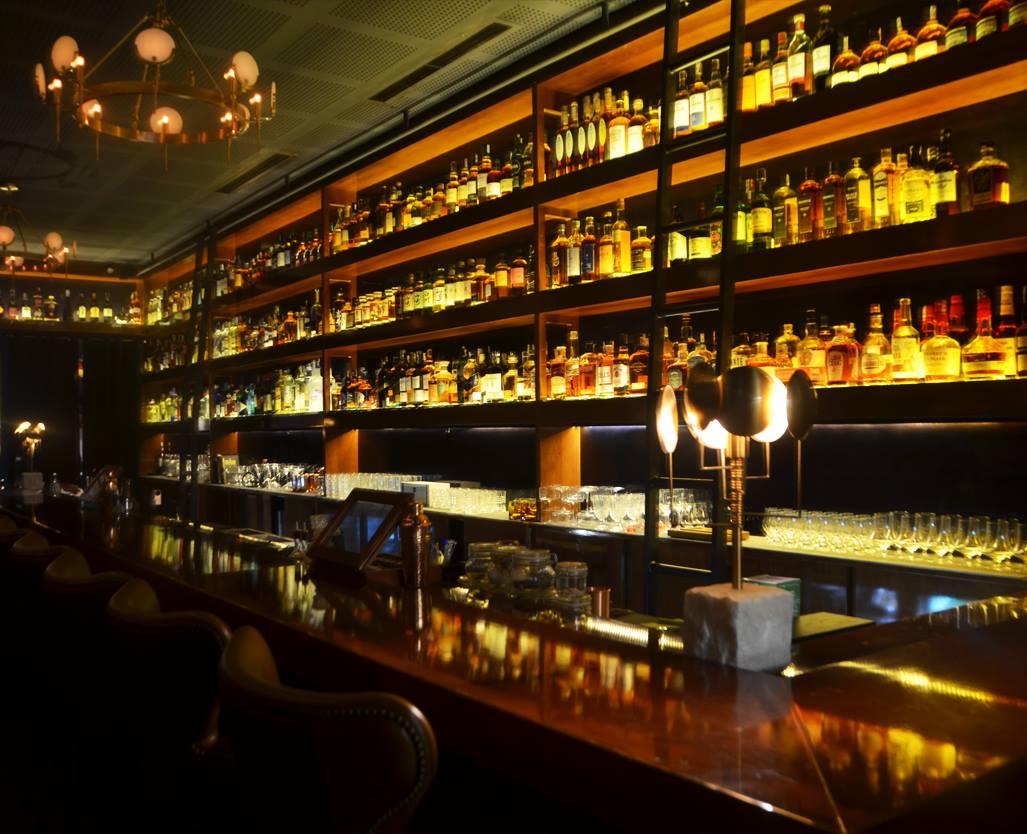 Bui Vien and Ngo Thoi Nhiem are the two other areas you want to consider for a Christmas night out. The two streets house plenty of renowned bars and pubs that shake the ambiance every night. If Bui Vien is catered to the young souls and backpackers with the top-notch DJs and upbeats, Ngo Thoi Nhiem featuring live acoustic is more favored by those seeking a tranquil vibe.
Hosting a House Party
Is there any cozier thing to do to celebrate Christmas in Saigon 2019 with board games and snacks? If you're tired of the hustle on the streets, why not host a house party and invite your friends over? Bring any kind of game you have! Board games or gaming console, any of them will work! The more people you get, the better of fun you have! Monopoly, Uno or even a Christmas carol contest can be your top picks.
Don't forget to pair it with a thoughtful portion of snacks as well! Chocolate is my best friend when it comes to celebrating Christmas with my besties. In Saigon, we locals usually head out to Alluvia to grab our best bites since they have any kind of flavors you can think of! You can also make a cup of hot chocolate out of the ready-made bars or go with the choco-flavor snacks to include it with the game!
Shopping
This is the best time of the year to shop your heart out. In Vietnam, when Christmas comes, everyone will be on the hunt for the greatest deal of the year. Most fashion brands will throw very sweet promotions to boost their revenue and clear out their stock for the Tet holiday collection. Tet is Vietnamese Lunar New Year, the biggest holiday in Vietnam.
If you plan to shop at popular brands, go to shopping malls such as Vincom Shopping Mall or Saigon Center. For smaller or local brands, you are going to need to go on a quest. Vo Van Tan and Nguyen Dinh Chieu in District 3 is the fashion kingdom. 10 minutes walk in this area and high chance your wallet starts to shrink. Nguyen Trai street will have more of the super cheap and local style clothing if you are keen.
Souvenir and gift shop will also take this chance. You can shop for very nice decoration items, gifts at a very reasonable price during this "promotion season". Alluvia Chocolate Shop in Saigon is having the biggest sale of the year. You get 30% off the total bill shopping here. High-quality chocolate and cocoa products made in Vietnam will be the best souvenir for your friends and family. Make sure to check it out.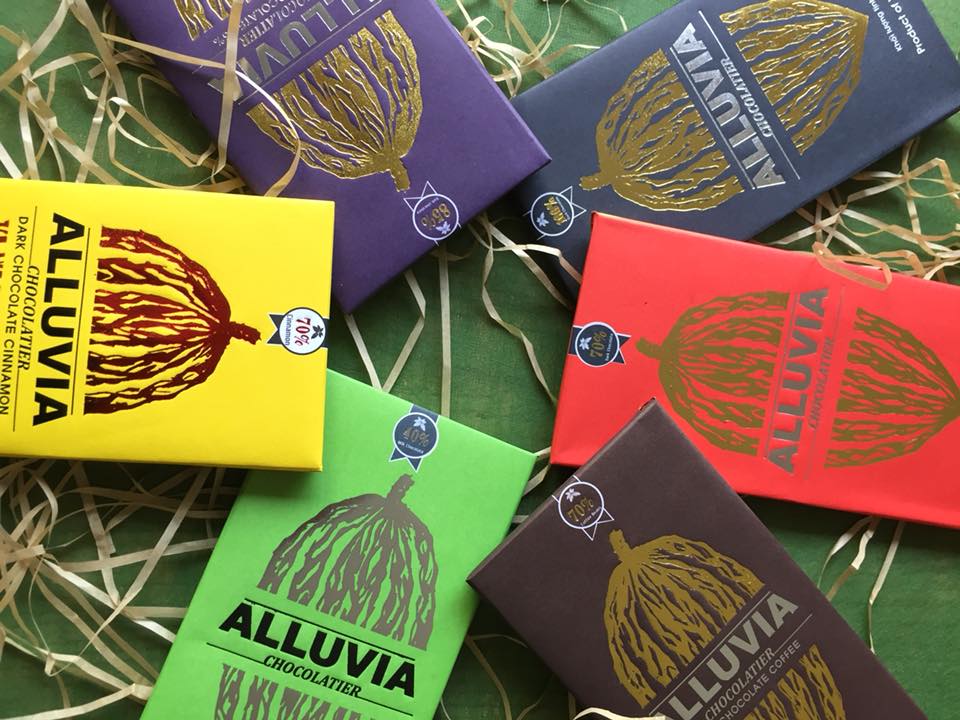 Now you have all the best things to do to celebrate Christmas in Saigon 2019! If you haven't finalized anything to gift your friends, head straight to the Alluvia Chocolate shop near you right away. I'm sure you will be drowned in hundreds of choices! Pick some for your friend and a lot more for the home party to not run out of fun later on. Don't forget to share this article, because many people are looking for the same answer as you do!
Alluvia is a bean-to-bar chocolate manufacturer in Vietnam. The brand handcrafts chocolate products from cocoa beans of the alluvial Mekong Delta's soil, capturing the taste of Vietnam in each bar of greatness. To purchase Alluvia's products or book a tour to the Alluvia Cocoa Farm and Chocolate Factory, please contact Alluvia on Messenger.